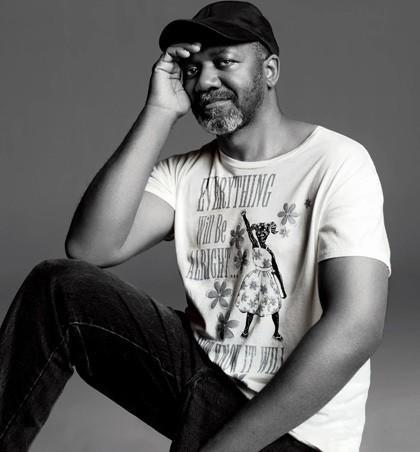 Kerry James Marshall, (geb. 17 oktober 1955) is een kunstenaar uit Birmingham, Alabama. Hij groeide op ten zuiden van het centrum van Los Angeles waar hij al op jonge leeftijd geïntrigeerd werd door het kunstenaarsschap. Hij studeerde in 1978 af aan 'Otis College of Art and Design' waarvoor hij een BFA (Bachelor in Fine Arts) kreeg. Ook ontving hij hier in 1999 een eredoctoraat. De inspiratie voor zijn doeken, installaties en publieke projecten haalt hij uit Afrikaans-Amerikaanse popcultuur en is geworteld in de geografie van zijn opvoeding.
Zelf zegt hij hierover:"Het is onmogelijk in 1955 in Birmingham, Alabama geboren te zijn, vervolgens op te groeien in zuid centraal Los Angeles vlakbij het hoofdkwartier van de 'Black Panthers' en dan geen gevoel van sociale verantwoordelijkheid te hebben. Je kan niet in 1963 naar Watts verhuizen en hier niet over spreken. Al dit bepaalde voor een groot deel waar mijn werk naartoe ging."
Zijn werk werd opgenomen in de collecties van talrijke musea zoals het MoMA, New York; het Whitney Museum of American Art, New York; The Studio Museum in Harlem, New York; het Metropolitan Museum of Art, New York; het Walker Art Center, Minneapolis; de National Gallery of Art, Washington, DC; Los Angeles County Museum of Art; Birmingham Museum of Art; San Francisco Museum of Modern Art; Art Institute of Chicago; Museum of Contemporary Art Chicago; en het Museum of Fine Arts, Boston.
boeken over deze kunstenaar